Die 500 Wachstumschampions 2017
We have some great news! FOCUS and Statista have ranked the 500 fastest-growing companies in Germany and we made the list! They identified companies with exceptional growth rates between the years 2012 and 2015 as "Growth Champions 2017". We're proud to announce that NanoTemper Technologies met the qualification profile and ranked # 2 in the "Chemie und Pharma" category, with a growth rate of 65 % per year.
"We're proud and honored to be listed with Germany's most successful companies!" says Dr. Stefan Duhr, CEO of NanoTemper Technologies.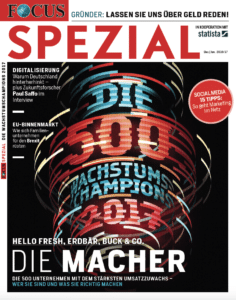 Dr. Stefan Duhr and Dr. Philipp Baaske founded NanoTemper Technologies in 2008 and turned their vision into a globally-operating high-tech company with 120 employees. NanoTemper Technologies develops, produces and markets highly innovative instruments for biomolecular analytics. The company's products are used by thousands of scientists across four continents.
Dr. Philipp Baaske has told this story many times, but he retells it with enthusiasm following this recognition: "We just started with two people in the basement of the Ludwig-Maximilians- University of Munich, and in the subsequent years, we established a strong, medium-sized company. Our customers value our high-quality products, and appreciate our service and knowledgeable support. We are successful because our customers are successful!"