"Our new nanoDSF software packages bring one-click assay routines for sophisticated experiments to our customers"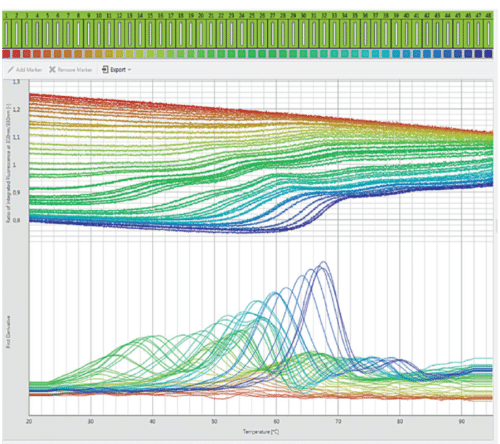 The in-depth characterization of proteins is becoming a lot easier and faster with three new software applications introduced by NanoTemper Technologies yesterday. All three packages are designed to work with the NanoTemper Technologies Prometheus series of instruments, which use nanoDSF (advanced Differential Scanning Fluorimetry) technology to investigate protein stability.
The clear, workflow-oriented user interfaces guide the user through data acquisition and analysis. Data can be viewed in real-time using various display settings. Straightforward, colorful visualization options and easy data export facilitate data analysis and presentation. Data export options for raw data and images include export via copy-paste or standard file formats.
PR.ThermControl software builds on the well-received PR.Control software for the investigation of thermal unfolding and calculation of Tm (melting temperature) and Tagg (aggregation onset temperature). It features new algorithms to make high-precision automatic calculation of these critical parameters even easier and more convenient. Users can measure all protein samples, virtually independent of concentration, type of protein and buffer conditions. The software enables simultaneous monitoring of conformational and colloidal stability in a single run. You can watch a short demo here.
PR.ChemControl provides effortless chemical unfolding data acquisition and analysis in seconds, with fully automatic ΔGapp (apparent energy of folding) and Cm (denaturant concentration at which half of the protein is unfolded) determination. PR.ChemControl lets users perform chemical denaturation analyses with maximum simplicity in minimal time. It only requires loading of samples – measurement settings are optimized automatically, and parameters of interest are calculated almost instantaneously. The entire analysis only takes seconds. Watch a real-time demo here.
Users can now access in-depth insights on their protein samples that were hardly available before with the all-new PR.TimeControl application. Sophisticated experiments with high information content for advanced protein stability testing are now possible with ease. Users can choose between isothermal measurements, (incremental) temperature cycling, and temperature stepping. The straightforward, graphically guided interface guarantees easy assay setup – yet it enables a plethora of applications like analyses of shelf-life, manufacturability, developability, and formulation development. You have to see the new possibilities in this short video.
"Enabling our customers to get better drugs faster was our mission when we started Nanotemper Technologies", said CEO Dr. Stefan Duhr. "We have come a long way towards this goal, and our new nanoDSF software packages that bring one-click assay routines for sophisticated experiments to our customers set a further milestone. It really shows that we care about the research of our customers."