Meet Cyrill Brunner, Senior PhD candidate at ETH in Zurich, Switzerland (preparing to defend his thesis as we go to press) and one of the 2019 Explorer award recipients. This award is given to individual scientists or teams whose positive contributions to science aligns with NanoTemper's mission to "do science that matters by always pushing the limits."
Cyrill is focused on the development and application of adaptive intelligence systems to do molecular de novo design and drug discovery. He was able to bring together computer modeling with practical proof-of-concept experiments examining challenging protein-protein interactions. His research helps identify new drug resistance compounds.
He's always had a passion for exploring. He originally trained as a pharmacist, even earning a degree, but decided that research was his calling.
Let's get to know Cyrill and what has been his motivation to push the limits of doing science.
Where are you completing your PhD studies?
I am in the Department of Chemistry and Applied Biosciences at the ETH in Zurich Switzerland.
Why did you decide to do a PhD alongside your degree as a pharmacist?
I have always wanted to do a PhD since I was 6-7 years old. I have always wanted to devote my life/time to a topic doing deep studies in the area. I feel a PhD is the time to devote yourself to a research topic.
Tell us about the focus of your research.
I am interested in studying protein-protein interactions as they are complex. I want to understand the comparability of results testing protein-protein interactions when employing different methods in different settings. I'm fascinated in testing new and rising techniques and how they compare to more established methods and if we can uncover new and exciting results with these methods.
What makes ETH Zurich a great place to do research?
It is a great environment to do research and there are collaborations everywhere. You get to be in a challenging environment and work with people in completely different areas of science and that creates a space that challenges you on a mental level. My group is doing computation studies but in addition, we hypothesize models, synthesize molecules, and then test them. I really get along well with my PI and the team both in the lab and outside of the lab.
What has been your proudest accomplishment so far in your role as a researcher?
I like to be the "assay guy" and happy to have a part in helping students get their results.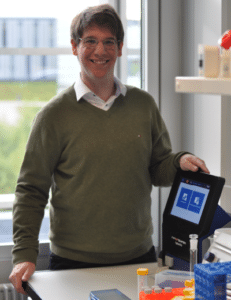 I had the opportunity to supervise a Masters student working on a project trying to predict the melting temperature of two plasma binding proteins. Initial thermal shift studies gave awful results. We worked together and measured samples on Tycho to monitor protein quality to get answers that weren't possible by traditional methods. Also, these results lead to two new projects that are currently ongoing in the lab.
Why is studying protein quality important?
Protein quality and controlling for it is highly important if you want to have reproducible results. Tycho is an important tool we use to test protein quality. It is central to any project we do particularly for buffer screening and assay optimization.
How did you come across NanoTemper? Where did you look for solutions?
My advisor and I attended a NanoTemper user training. We were looking at binding proteins to CCR7. We had started with ITC, but weren't getting good results. We got a chance to learn about the different technologies from NanoTemper. When Tycho came out, it was perfect for us. We were interested in doing detergent screening, read a NanoTemper application note, and decided that Tycho technology would be a good alternative to traditional thermal shift and could help to test proteins prior to running an MST or an SPR assay.
What advice would you share with researchers who are just starting their PhD?
Don't aim for the biggest shot, take smaller shots and take smaller steps, don't limit yourself to just one project. Have other projects that can be a positive distraction and also help to make you think about your research in different ways. Lastly, do a PhD because you want to devote that time to research, not to just get a job — that will come if you do good work.